WHAT'S IN THE BOX?
Your new GTR Carbon All Terrain
Fast charger
R2 Remote, leash, remote case and charging cable
Accessories carry case
Y tool
Spare screws set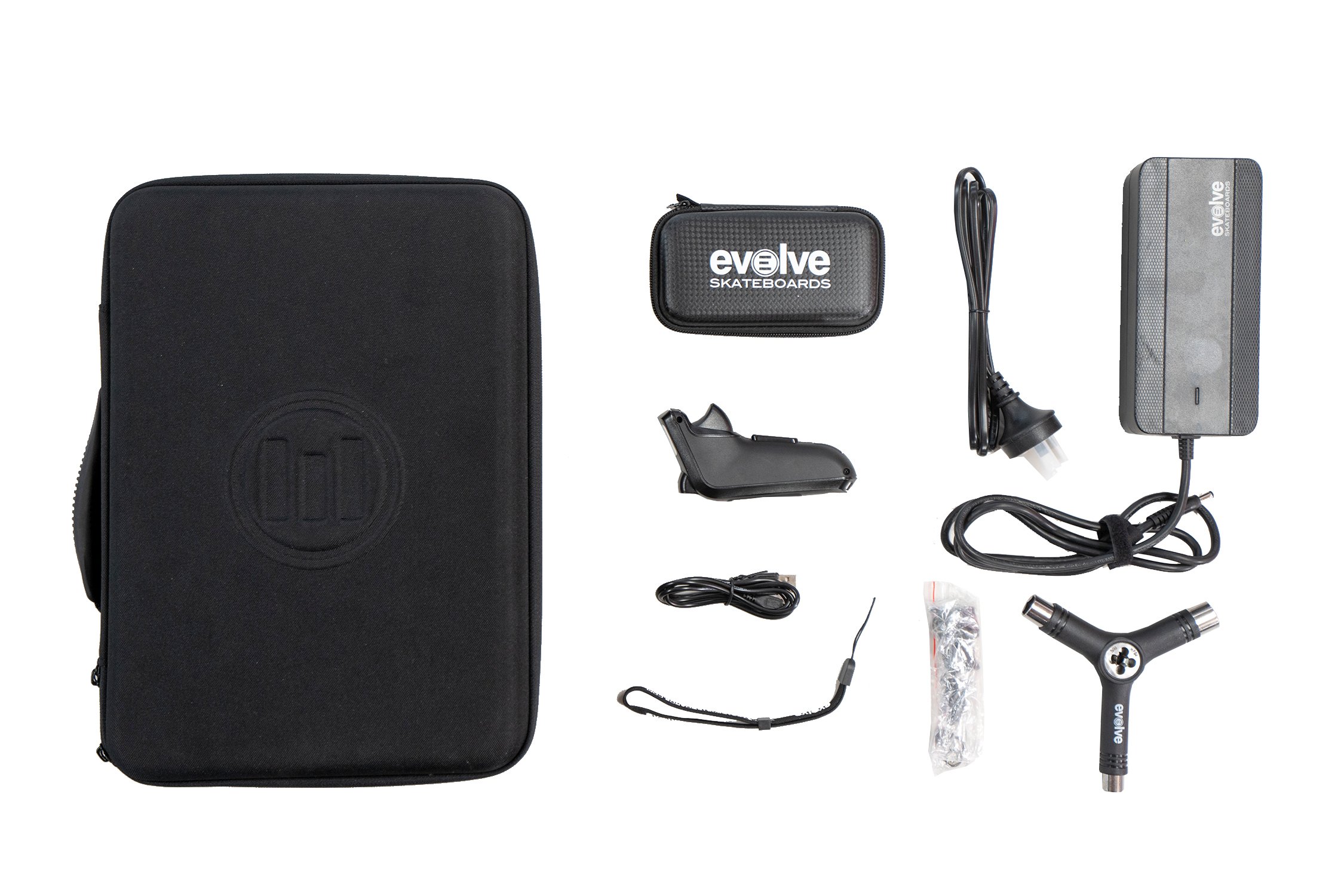 What Are Riders Saying About The GTR All Terain
100%
of reviewers would recommend this product to a friend
| | |
| --- | --- |
| Quality | |
| Performance | |
| Technology & Features | |
Hands down, the best board I've ridden
I've had my Carbon GTR All Terrain about 2 weeks now, and roughly 50km later, I'm blown away by how smooth and quiet it is compared to my other similar generic Chinese made board. The build quality and R&D that has gone into the design and performance is amazing. I ride mostly in PRO mode, and have yet to really find a situation where GTR mode was required. The board pulls strong without any fade, even with the battery showing 15% on the remote.
I'm very happy. And being able to choose from a selection of rim, tyre, remote colours only makes the board feel more "mine" and not typically like an off-the-shelf product.
Yes, it may be pricey compared to other alternatives. But... quality doesn't come cheap, and you get what you pay for in the end. In any case, I can see myself getting the street conversion kit soon as well.
Highly recommended!
| | |
| --- | --- |
| Quality | |
| Performance | |
| Technology & Features | |
Absolutely blown away
This thing can go anywhere. Gets me up any hill, off road is no problem. Heaps of fun. Everything about the build has safety in mind, and the riding experience is smooth and clean. Controller is very well designed and responsive. I love this board, it's going to last me a long time.
| | |
| --- | --- |
| Quality | |
| Performance | |
| Technology & Features | |
Holy snapping duck sh#t batman
This board is an absolute beast, worth every penny!
| | |
| --- | --- |
| Quality | |
| Performance | |
| Technology & Features | |
GTR Carbon
Awesome fun, you can go extreme or tame it down for the kids. My son and I have a great time together, trouble is I'm going to have to buy another one now!
| | |
| --- | --- |
| Quality | |
| Performance | |
| Technology & Features | |
WOW....
Thank you Haley, for skipping your lunch so I could have a test ride. You were patient with my questions and gave exceptional customer service.
I bought a few accessories with my GTR to include the bash guard and some lights. The bash guard was a little fiddly but the youtube video helped and I only have to do it once. In only a two of days, it has already done a lot of km. Yesterday my teenage sons and I spent a couple of hours in a carpark taking turns practising before we went to the dog park down the road where our dogs happily chased us for hours. The board is fast, smooth and heaps of fun. My only complaint is getting it off either of my lads so I can go for a ride, but it is great to be out in the sun spending time with them.
I would totally recommend getting an evolve.
| | |
| --- | --- |
| Quality | |
| Performance | |
| Technology & Features | |
Customers Who Bought This Item Also Bought