Your new GTR Bamboo All Terrain
Fast Charger
R2 Remote, leash, remote case and charging cable
Accessories carry case
Y tool
Spare screws set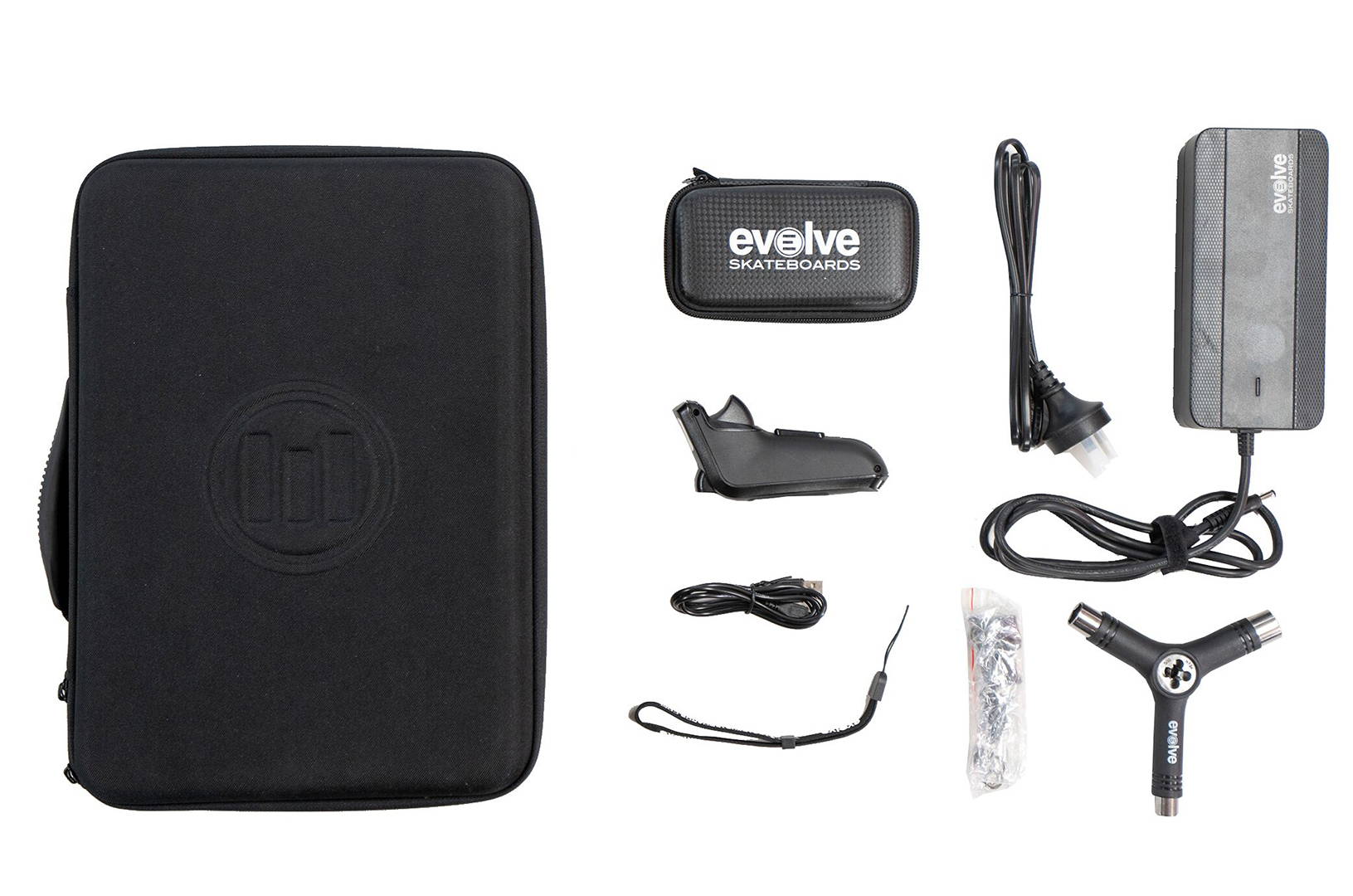 What Are Riders Saying About The GTR All Terain
100%
of reviewers would recommend this product to a friend
| | |
| --- | --- |
| Quality | |
| Performance | |
| Technology & Features | |
Quality and customer service
The board is unreal I love it
so much fun carving with the street set up and having the carbon 2 in 1 I can transfer to my alterain and hit the grass sloppes
The customer service is great so willing to help out and the response time is crazy
Couldn't be happier with my purchase
Well worth the money
I'm locked in now I'll be buy plenty more products from evolve
| | |
| --- | --- |
| Quality | |
| Performance | |
| Technology & Features | |
What's not to love
As a first time electric sk8board rider, the GTR has set the bar high. It's a well-designed magic carpet that smoothly flows between different terrains. Plus the turning on it is excellent, though thankfully I've been a regular longboard rider over the last few years and could adapt quickly. I'm yet to try road wheels, but when I'm more comfortable with achieving higher speeds, I definitely will! And I wanna get it sideways soon too.
I also feel safe with the controls now that I've synched in, which surprisingly didn't take long.
The only negatives are in my head. I thought I was gonna be lazy once I got the board, but to compensate, I upped my activities. Now it's a reward, except for the last two weeks due to injury.
I got a sore back from riding in the wrong position for too long. My left side caved in (I'm goofy) from being tensely off centre due to a safety position I'd hold. Since I was new at it and took on long rides without breaking myself in, those unused muscles went into damage control. It's been two weeks now, and I can almost stand straight up again. Prob the worst back pain I've experienced from my own neglect, and it wasn't even from coming off!
Overall, it's unreal — powerful propulsion, stable turning and reliable braking, in an easy to use small comfortable controller.
Lastly, I recommend putting an electric bell on the board with a button under the pinky on the side of the remote if it can fit.
Thank you Evolve :)
| | |
| --- | --- |
| Quality | |
| Performance | |
| Technology & Features | |
Easy to get carried away with its awesomeness.
I liked everything about it except the torn hamstrings an hour after delivery.
That was two weeks ago. I'm planning on a gentle return, tomorrow. Slowly this time.
| | |
| --- | --- |
| Quality | |
| Performance | |
| Technology & Features | |
Kid in a candy store
The wait for my GTR Carbon was well worth it. At 40 years old this is my first electric board and I'm absolutely blown away. Been having heaps of fun with it but was just starting to feel disappointed and frustrated that I couldn't get over 23kph...eventually I consulted the instructions 😂 only to discover the speed limiter section. This is a good thing though and I would encourage any person new to these (even if you grew up on decks like me) to get comfortable for a while before taking the limiter off, once you do though...wow, very comfortable 35kph with all terrain tyres and a 82kg bloke. Happy days, endless wave, permanent smile 😃
| | |
| --- | --- |
| Quality | |
| Performance | |
| Technology & Features | |
| | |
| --- | --- |
| Quality | |
| Performance | |
| Technology & Features | |
Customers Who Bought This Item Also Bought